Government certified trekking guide in Nepal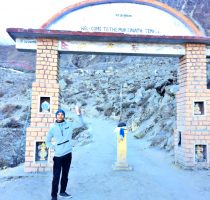 Nice to meet you all i'm government certified trekking guide
Greetings! I am Saroj Dhakal, a government certified trekking guide based in Nepal. Starting April 1, 2023, it has become mandatory for all trekking groups or individual to hire licensed guides in Nepal. As an experienced guide, I am here to offer my expertise and services to make your trekking adventure in Nepal safe, enjoyable, and unforgettable.
I have extensively traveled throughout Nepal and gained extensive knowledge of the country's diverse cultures, traditions, and natural wonders. With my guidance, you can explore the awe-inspiring Himalayas, interact with amiable locals, and discover the best that Nepal has to offer.
I hold a valid trekking license issued by the government, which ensures that I am competent and qualified to lead groups through Nepal's rugged terrain. The safety and well-being of my clients always come first, and I will do everything in my power to guarantee that you have a positive and remarkable trekking experience.
If you're looking for a personalized trekking adventure in Nepal, search no further! Please contact me today to discuss your needs and arrange a trek that caters to your interests, budget, and schedule. Let's embark on an extraordinary journey together!